Hotels in Beijing have cut their room rates 10 to 20 percent in a last-ditch effort to attract tourists before the opening of the Olympic Games next month.
Olympic room prices in the average three-star hotel, compared with those quoted in May and June, are now reduced from 700 yuan ($104) to 400 yuan per night, and in a four-star hotel from 1,500 yuan to 800 yuan per night.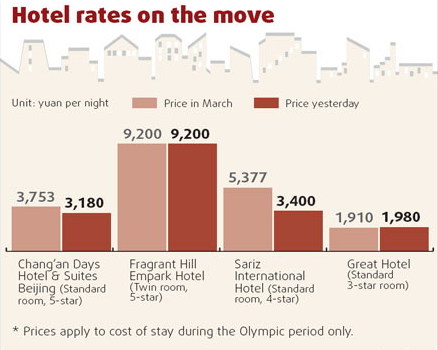 "One reason is that the occupancy rate is less than expected; another is to undercut competitors at the last moment," Wu said.
The three-star Beijing Fuhao Hotel has cut its room rates 20 percent during the Olympics compared with June, even though the Olympics occupancy rate is about 70 percent.
"We want to attract more guests during the Olympics at the time people are about to finalize their travel agenda," Tian Ye, sales manager of the hotel, said.
Lowering the price at this time could also help to attract more domestic customers.
The Beijing municipal tourism bureau said on July 11 that the occupancy rate in five-star hotels had reached 77 percent, while that of four-star hotels was only 44 percent.
But with the Games approaching, lower-ranked hotels are gaining popularity, judging from growing reservations from budget travelers during the past weeks.
In terms of location, reservations have been concentrated in the Olympic Village, Asian Games Village and hotels near the Olympic stadiums.
Hotels located farther from the Olympic stadiums have also begun providing packages in a bid to attract customers, including offers of breakfast vouchers and souvenirs.